Cours de spécialisation,  Centre des Matériaux Mines-ParisTech, du 22 janvier au 9 mars 2018
Le Centre des Matériaux Mines-ParisTech organise dans le cadre de son mastère « Design des Matériaux et Structures » des cours de spécialisation sur des semaines bloquées de janvier à mars 2018.
Les cours sont offerts comme cours doctoraux à tous les étudiants en cours de thèse et comme semaine de formation continue.
Pour plus d'informations, veuillez consulter la page : http://dms.mat.mines-paristech.fr/Programme/Module-B3
ECCM-ECFD 2018 Conference Glasgow, UK, on June, 11-15, 2018
Dear Colleague,
we would like to inform you that we are organizing the mini-symposium
« MS50: Multi-scale models of interfacial layers »
The deadline for presenting a one-page abstract is December 15, 2017.
Information regarding the minisymposium and the ECCM-ECFD 2018
Conference can be found at the congress web page: http://www.eccm-ecfd2018.org
We thank you in advance for your participation interest.
Should you have any queries or require any further information please
do not hesitate to contact us.
We hope to see you in Glasgow!
Kind regards,
Frédéric Lebon
lebon@lma.cnrs-mrs.fr
CNRS, Laboratoire de Mécanique et d'Acoustique, Université Aix-Marseille, France
9th Contact Mechanics International Symposium 2018 – May 16 – 18, 2018, Sanctuary of Oropa – Biella, Italy
Deadline for abstract submission: January 19, 2018.
CMIS 2018: http://conference.unisalento.it/ocs/index.php/cmis/cmis2018
Flyer: Flyer_cmis2018
We would like to inform you that abstract submission for the Symposium is now opened untill January 19, 2018.
We would appreciate your participation to the Symposium which is the opportunity to gather every two years the contact mechanics community.
As usual, the congress addresses a wide panorama of topics in the area of contact mechanics in order to reinforce the interactions and collaborations between various communities:
Models, interface laws,wear, tribological modeling, cohesive zone models, rolling;
Emerging computational approaches: methods, algorithms and numerical analysis;
Mathematical analysis;
Dynamic contact problems, instabilities;
Micromechanics of contact and multiscale approaches;
Multiphysics and thermomechanical coupling;
Granular materials and rigid bodies;
Contact modeling in mechanical and civil engineering, biomechanics and geomechanics.
HISTORY
The series of CMIS symposia started in 1992 in Lausanne.
The locations have always been selected with the idea of providing a quiet and confidential environment to encourage exchanges of ideas among the participants.
Following such tradition, CMIS 2018 will be held at the Sanctuary of Oropa (Biella), Italy, on May 16-18, 2018, and it will be the 9th event of the series.
Lausanne, Switzerland, 1992
Carry Le Rouet, France, 1994
Peniche, Portugal, 2001
Hannover, Germany, 2005
Chania, Greece, 2009
Cargese, France, 2012
Abu Dhabi, United Arab Emirates, 2014
Warsaw, Poland, 2016
Oropa (Biella), Italy, 2018
ESMC 2018, Bolohna, July 2-6, 2018

The 10th European Solid Mechanics Conference – ESMC 2018, which will be held in Bologna (Italy) during July 2-6, 2018.
The Conference is organized by the University of Trento and the University of Bologna.
The European Solid Mechanics Conference is the major event for the solids mechanics community in Europe and provides a unique forum for scientists and engineers to exchange ideas on the current
state-of-the-art in the mechanics of solids, on new concepts and ideas and to identify new research directions.
Abstract submission will open on July 15, 2017.
The deadline for abstract submission is November 15, 2017.
Further details can be found on the Conference web site www.esmc2018.org.
13th World Congress on Computational Mechanics and 2nd Pan American Conference on Applied Mechanics, July 22-27, 2018, New York City, NY
The deadline for minisymposium proposals is June 15, 2017.
We invite you to submit a maximum 400-word proposal for a minisymposium on a topic related to the general area of computational mechanics to be held at the 18th World Congress on Computational Mechanics. The proposals are encouraged to address any timely and coherent developments in all aspects of computational mechanics. All disciplines of computational mechanics are welcomed and in particular we encourage proposals in new computation-oriented areas in both engineering and sciences. We also welcome proposals that explore interdisciplinary connections within areas of engineering and sciences or that are related to computational mechanics at any level.
To submit your minisymposium, go to http://www.wccm2018.org/minisymposia-proposal-submissions. Submission is open through June 15, 2017
Edition 2017 du Congrès Français de Mécanique, organisée par la communauté mécanique lilloise, Lille, du lundi 28 août au vendredi 1er septembre 2017.
Ce rassemblement biennal d'acteurs académiques et industriels est l'occasion majeure d'échanger tant sur les récentes avancées théoriques, numériques, expérimentales que sur les dernières applications industrielles.
Le CFM 2017 couvrira l'ensemble des domaines de la Mécanique (35 sessions, 4 mini-symposiums et un colloque international francophone sont proposés) et s'intéressera en particulier à la thématique « Transports », au cœur des enjeux industriels régionaux mais également européens (transport ferroviaire, aéronautique, …).
L'envoi des résumés est ouvert et possible jusqu'au 31/12/2016 sur https://cfm2017.sciencesconf.org/page/instructions
ICCCM 2017, Lecce, Italy. July 5-7,  2017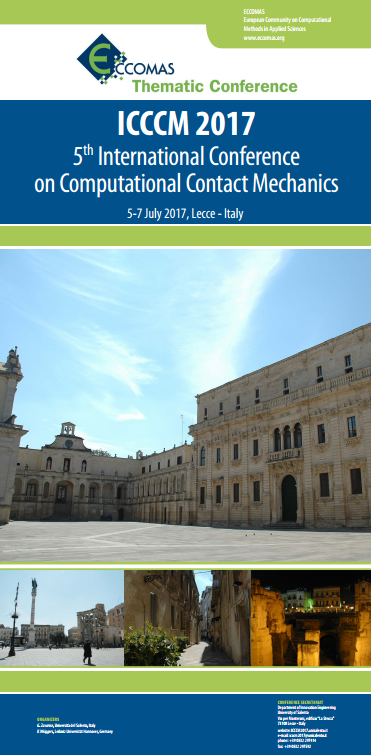 Data-BEST 2017, Nantes, France. March 27-29, 2017