13th World Congress on Computational Mechanics and 2nd Pan American Conference on Applied Mechanics, July 22-27, 2018, New York City, NY
The deadline for minisymposium proposals is June 15, 2017.
We invite you to submit a maximum 400-word proposal for a minisymposium on a topic related to the general area of computational mechanics to be held at the 18th World Congress on Computational Mechanics. The proposals are encouraged to address any timely and coherent developments in all aspects of computational mechanics. All disciplines of computational mechanics are welcomed and in particular we encourage proposals in new computation-oriented areas in both engineering and sciences. We also welcome proposals that explore interdisciplinary connections within areas of engineering and sciences or that are related to computational mechanics at any level.
To submit your minisymposium, go to http://www.wccm2018.org/minisymposia-proposal-submissions. Submission is open through June 15, 2017
ESMC 2018, Bolohna, July 2-6, 2018

The 10th European Solid Mechanics Conference – ESMC 2018, which will be held in Bologna (Italy) during July 2-6, 2018.
The Conference is organized by the University of Trento and the University of Bologna.
The European Solid Mechanics Conference is the major event for the solids mechanics community in Europe and provides a unique forum for scientists and engineers to exchange ideas on the current
state-of-the-art in the mechanics of solids, on new concepts and ideas and to identify new research directions.
Abstract submission will open on July 15, 2017.
The deadline for abstract submission is November 15, 2017.
Further details can be found on the Conference web site www.esmc2018.org.
Edition 2017 du Congrès Français de Mécanique, organisée par la communauté mécanique lilloise, Lille, du lundi 28 août au vendredi 1er septembre 2017.
Ce rassemblement biennal d'acteurs académiques et industriels est l'occasion majeure d'échanger tant sur les récentes avancées théoriques, numériques, expérimentales que sur les dernières applications industrielles.
Le CFM 2017 couvrira l'ensemble des domaines de la Mécanique (35 sessions, 4 mini-symposiums et un colloque international francophone sont proposés) et s'intéressera en particulier à la thématique « Transports », au cœur des enjeux industriels régionaux mais également européens (transport ferroviaire, aéronautique, …).
L'envoi des résumés est ouvert et possible jusqu'au 31/12/2016 sur https://cfm2017.sciencesconf.org/page/instructions
ICCCM 2017, Lecce, Italy. July 5-7,  2017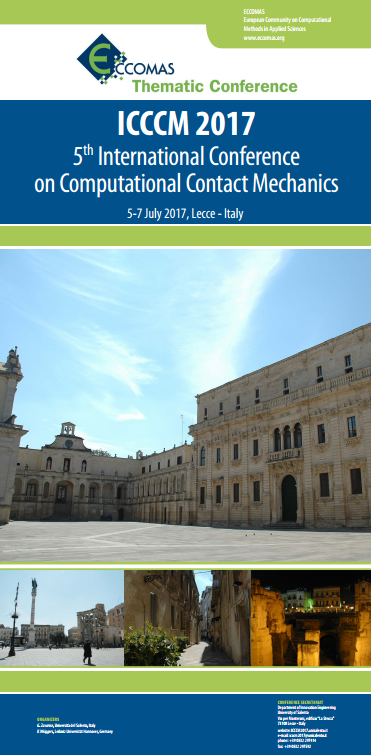 Data-BEST 2017, Nantes, France. March 27-29, 2017